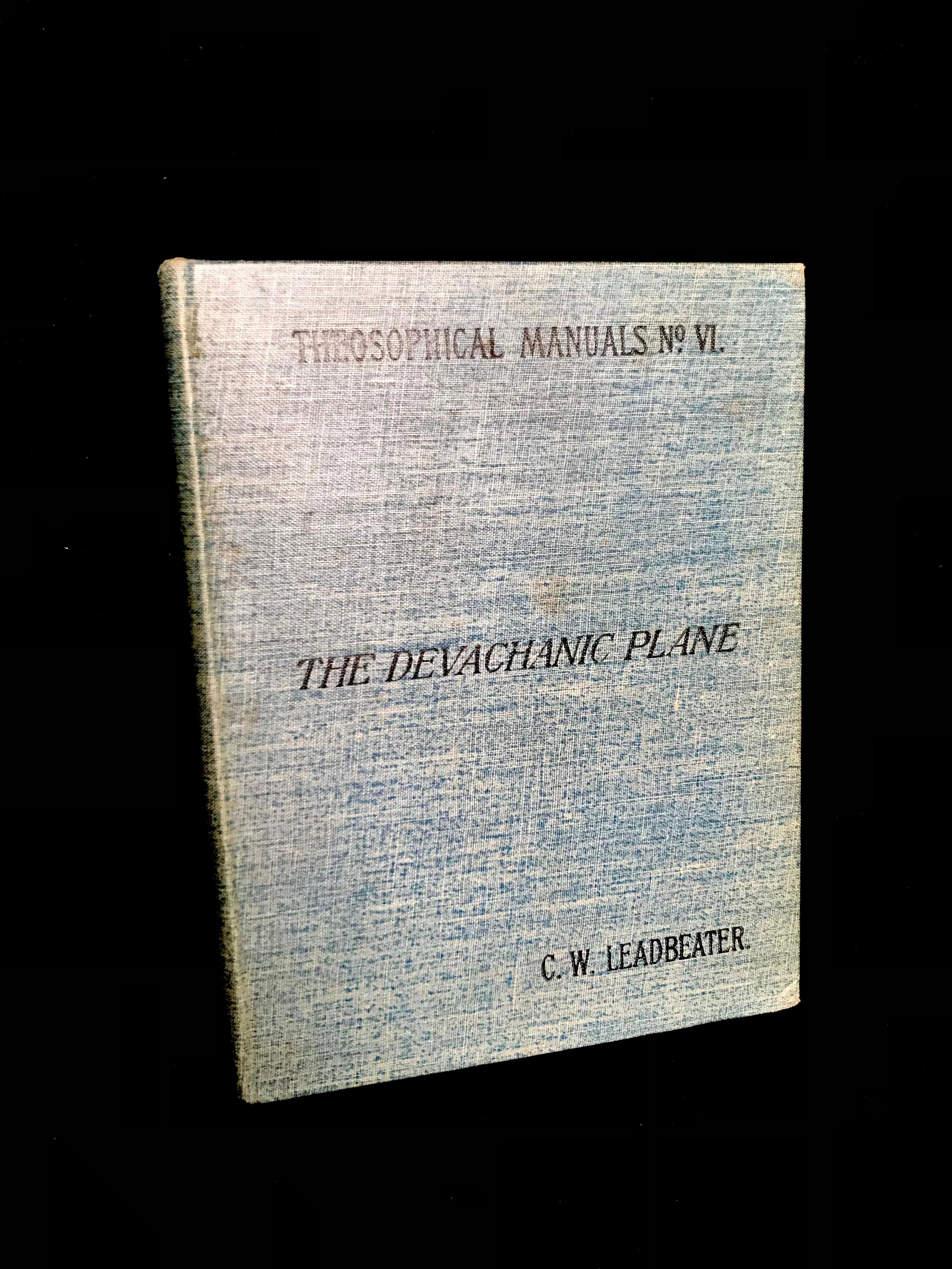 The Devachanic Plane, Or The Heaven World by Charles Leadbeater
£50.00
Theosophical Publishing, 1896. First edition. 88 pages. Boards faded, small stain to cloth, corners rubbed, light wear otherwise a very good example.
'This little book must give some idea of the mental plane or the heaven-world, often spoken of in our Theosophical literature as that of Devachan or Sukhâvatí. A clairvoyant description of our heaven consciousness.'
Contents.

Introduction. The place of the mental plane in evolution, Difficulties of expression.
General Characteristics— A beautiful description, The bliss of the Heaven-World, Its intense vitality, A new method of cognition, Surroundings, The sea of light, The colour-language of the angels, The great waves, The lower and the higher heaven-worlds, The action of thought, The formation of artificial elementals, Thought-forms, The sub-planes, The records of the past
Inhabitants
I. Human: The embodied, Adepts and their pupils, Those in sleep or trance .The disembodied, Their consciousness, The qualities necessary for the heaven-life, The lower heavens, with examples from each
The reality of the heaven-life, The renunciation of heaven, The higher heavens.II. Non-Human: The elemental essence, The veiling of the Spirit, The elemental kingdoms, How the essence evolves.
The Animal kingdom, The Devas
Conclusion, The still higher planes.

"Since further enquiry has shown that the word " Devachan" is etymologically inaccurate and misleading, the author would prefer to omit it altogether, and to issue this manual under the simpler and more descriptive title of "The Mental Plane." The publishers inform him, however, that this alteration of title would cause difficulties in the matter of copyright, and produce confusion in various ways, so he defers to their wishes."