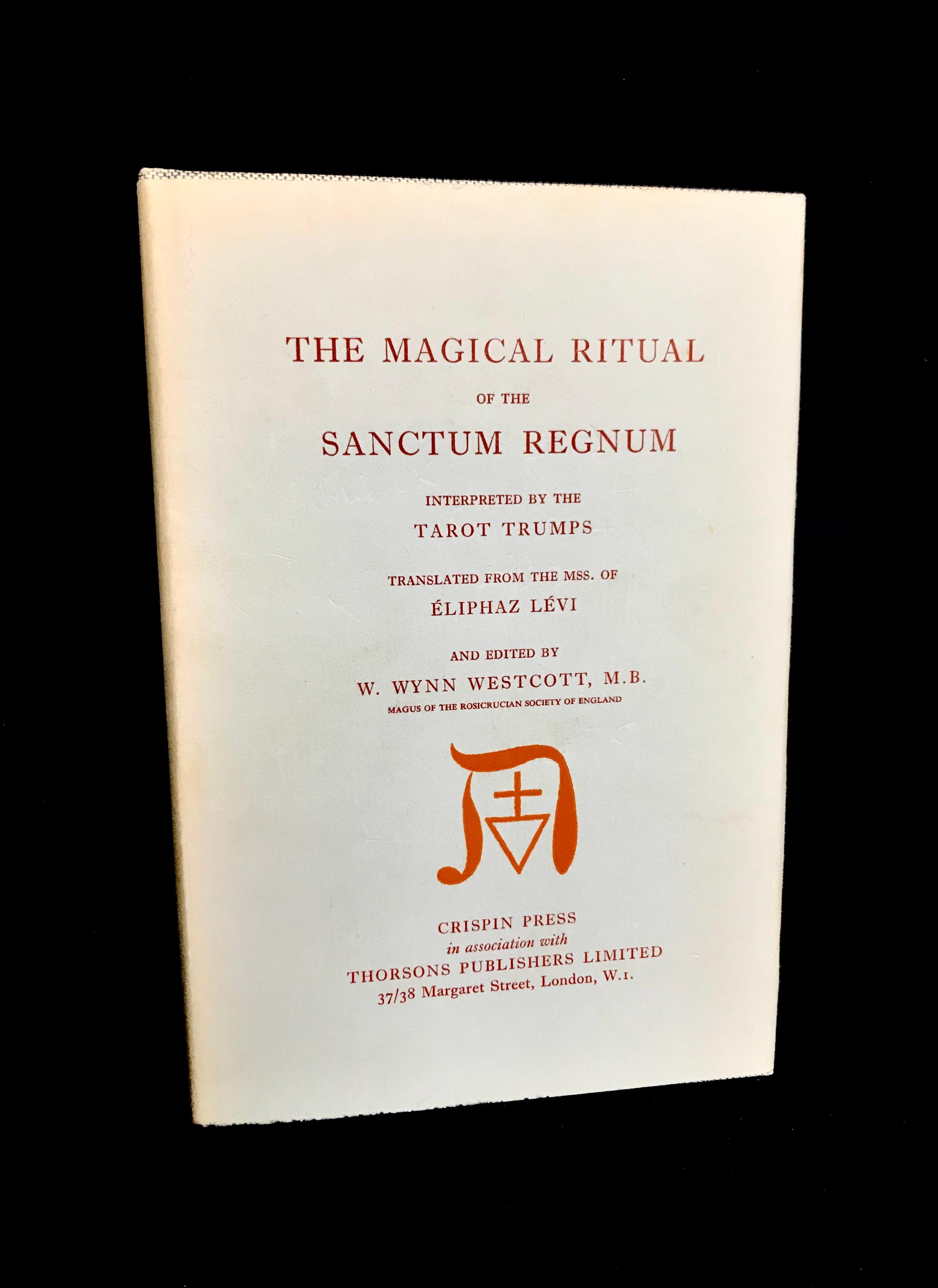 The Magical Ritual Of The Sanctum Regnum
£150.00
London: Crispin Press, 1970. Second Impression, first published 1896. 108 pages. 8 Coloured plates. 7 x 5 inches. Translated from the manuscripts of Éliphaz Lévi. Edited by W. Wynn Westcott. Spine sunned, jacket worn to the extremities with slight marks present, otherwise a near-fine example.

The Magical Ritual of the Sanctum Regnum Interpreted by The Tarot Trumps Translated From The Manuscripts of Eliphaz Levi.

'A magical text translated from the unpublished French manuscript by Éliphaz Lévi on the 'ruling of the world by the seven great archangels.' Lévi details how each of the seven archangels rules for a period of 354 years, each are represented by celestial bodies, planets of the ancients, with Michael being the sun, Gabriel being the moon, Raphael as Mercury, etc. The book includes eight of Lévi's drawings.

Published posthumously and translated by Westcott, co-founder of the Hermetic Order of the Golden Dawn. The chapters assess the mystical meaning of the twenty-two tarot cards, followed by a brief editor's note describing the card's iconography and summarising interpretations. The book ends with Kabbalistic prayers and rituals, 'praise of Jesus Christ as the great initiate', revealing the life-long relationship between Catholicism and magic in Lévi's personality and thought.'

Contents.

- The Magician
- The Priestess
- The Empress
- The Emperor
- The Pope, or Hierophant
- The Lovers
- The Chariot of Hermes
- Justice
- The Hermit
- The Wheel of Fortune
- Fortitude
- The Hanged Man
- Death
- Temperance
- Satan
- The Tower
- The Star
- The Moon
- The Sun
- The Last Judgment
- The Unwise Man
- The Universe
The Kabalistic prayer
Conclusion
Occult and religious maxims.


Éliphaz Lévi, born Alphonse Louis Constant, (1810–75) was instrumental in the revival of Western occultism in the nineteenth century. Initially pursuing an ecclesiastical career in the Catholic Church, he abandoned the priesthood in his mid-twenties and became a ceremonial magician. He wrote over 20 books on magic, Kabbalah, alchemy, and occultism.